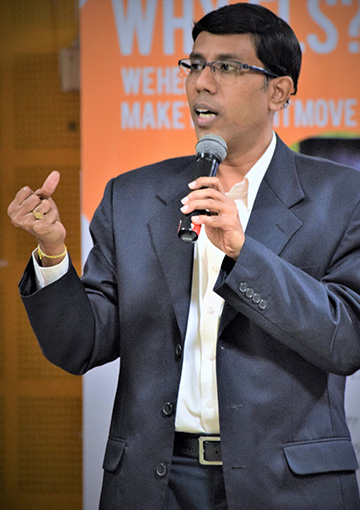 Our Founder
Chief Mentor and Strategist, Startup Xperts
Creator - Voxit Media Tech (Podcast app)
Chief Mentor and Strategist (Virtual CMO)
Catalyst, business leader, growth expert worked in large MNCs and Startups 25+ years of professional, multicultural experience
Traveled across 25 countries, relocated from the US in 2012
Built successful enterprises
BE (NIT), MBA, Exe Mgmt Program from Harvard Business School, Boston, USA
Internationally Accredited Mentor by the City and Guilds, UK.
Ecosystem Partner for CII Startupreneurs
President - Rotary Club 2021-22
India Social Impact Award 2022
Top Coach, Coach Foundation US
Indian Achievers Award 2020-21
Distinguished Digital Leader, 2018
Featured Top20 Biz and DM Consultants
Jury - Patna Ideathon, Bihar Govt.
Mentor, Jury - IIT(M), IIT (Kgp), IIT (B)
Jury, Partner - the talk BIG Ideas
Chairman - Mentor Advisory Panel BYST
Jury - Small Enterprise Business Awards
Sr. Mentor - EDII, TN
NASSCOM Speaker, Chair - CEO Forum
Mentor - SMB Connect, Startup weekend
Speaker, Moderator, Panelist
Shyam Sekar, an Engineer, MBA, is growth transformation leader with over two decades of experience in business strategy, growth, branding, sales, marketing, and operations. He is the Founder of Startup Xperts and also the Creator, Founder of Voxit Media Tech, an innovative and trendy podcast app. He has travelled across 25 countries, and completed an Executive Management Program at Harvard Business School, Boston, USA.
Shyam's passion is to turn ideas and vision into reality, through smart strategy and execution, to build sustainable and scalable entrepreneurial ecosystem. He has been featured and recognized in various media/platforms including, Distinguished Digital Leader, Top Business Consultant, Top Digital Marketing Consultant, Top Coach by Coach Foundation, USA, the 'Indian Achievers Award' for Business Leadership, in recognition of outstanding professional achievement and contribution in Nation Building (2020-21) and the recent 'India Social Impact Award' an initiate to honour India's most inspiring social workers and changemakers. Shyam is also a Speaker, Panelist in many Startup and Business events/conferences across India. He contributes a lot to social activities and has been a Rotary Club President for the year 2021-22.
Like to leave me a message?